In this update, the Corolla has improved the hybrid system, aesthetics and driving assistants. With powers from 140 to 196 HP and consumption from 4.4 l/100 km, its five occupants have a trunk that starts, for the five-door version, at 313 liters. On sale from €25,900
Corolla is an iconic model that has been on the market for more than 55 years. Throughout its 12 generations, it has evolved to adapt to the needs and preferences of drivers, with more than 50 million units sold worldwide since its launch in 1966.
At the beginning of 2023, the renewed Toyota Corolla Electric Hybrid family arrived in Spain. It is available in three body variants with important innovations in technology, design, engines, equipment and safety. With two electric hybrid engines and up to six different finishes.
The fifth generation of Toyota's electric hybrid technology, an improved digital user experience and a greater range of safety and driving assistance features with Toyota Assist are some of the most notable new features, in addition to a renewed 1.8l engine that reaches now 140 HP, 18 more than previously, offering better performance and lower consumption and emissions.
The new Corolla Electric Hybrid range features a refined image with changes to the front grille mesh pattern, beveled fog lights, new alloy wheels and new colors inspired by current trends.
The top versions of the five-door and Touring Sports models have Bi-LED headlights and the GR Sport Premium versions incorporate Dynamic High Beam Adjustment.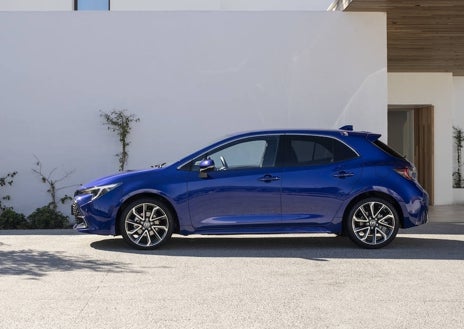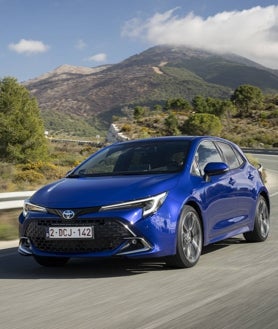 Datasheet: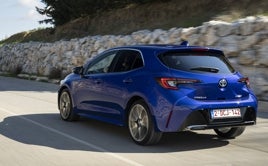 Engines:

140 and 196 hp hybrids
Consumption:

from 4.4 l/100 km
Dimensions length/width/height (in meters): 4.37

(4,65)/1,79/1,46
Trunk:

from 313 to 1,606 liters
Precio:

from 25,900 euros
Inside, the ambience is more modern and premium with new graphics, inserts and engraved patterns that add three-dimensional and tactile depth to the upholstery, surfaces and finishes.
These interior and exterior design improvements provide a more attractive and contemporary look to Toyota's new Corolla Electric Hybrid family.