The economic impact that the development of connectivity and autonomous vehicles would have in our country, according to studies by the European Parliament, could exceed 100 billion euros, 7.5% of Spanish GDP. This has been one of the main conclusions of Bruno Mattucci, CEO of Nissan Iberia, during the IX Edition of the Nissan Forum held in Madrid. In this way, it becomes clear that the automobile continues to be a multiplier sector of the Spanish economy and that it is important to continue accelerating measures to strengthen this sector.
"Electrification is the only gateway to the rest of the trends that will come, such as autonomous mobility, connectivity or artificial intelligence," he explained. In fact, 90% of the vehicles that Nissan sells in Spain are already electrified and starting next year, all the vehicles that Nissan puts on the European market will be electric. For Mattucci, "the real game changer of the electric vehicle will be solid-state batteries, significantly reducing the price of electric vehicles, reducing charging time by a third and doubling the autonomy of the vehicles," he added.
For Nissan, connectivity and the autonomous vehicle are synonymous with reducing accidents, with the goal of zero victims on the road, and innovating in the driving experience. Finally, Mattucci referred to artificial intelligence, commenting that "artificial intelligence and vehicle connectivity can make life easier, safer, more connected and more exciting. Artificial Intelligence has advantages, as we have seen in today's debate: data analysis to eliminate human error and risk in driving, 24/7 availability and reduction of accidents, with the goal of 0 accidents.
He concluded that »we cannot be left behind, we must accelerate working on the benefits of AI, through coordinated legislation between the public and the private, so that artificial intelligence delivers that potential that can do profound good for society, helping to improve For example: industrial production, energy efficiency, the fight against accidents and 0 emissions in sustainable mobility to fight the climate crisis.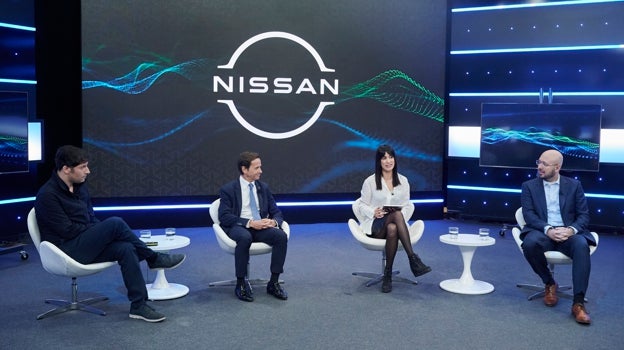 For its part, Jordi Villa, Divisional Vice President Marketing and Sales of NISSAN commented that: "from my European perspective, I see how some other countries that are also competitors of Spain when it comes to manufacturing vehicles, have made a clear commitment to electrification and, for example, in Germany , France or the United Kingdom already have electrified vehicle shares close to or above 25%. For me, the message in Spain must be directed to the consumer: today the electric car is already a reality, you can make trips throughout Spain and Europe in an electric vehicle and the advantages it provides to the consumer are much greater than any other technology in terms environmental, but also in economic terms, with average savings in the use of electric vehicles of around 2,500 euros per year for an individual.
Likewise, technology and artificial intelligence have a very important social role. For example, Vila highlighted that: "electrification and autonomous mobility combined with artificial intelligence could make disconnected rural areas of Spain connect through vehicles." to promote aspects such as medical or pharmaceutical care, so that the population of those places takes advantage of the opportunities of technology, that is, again, innovate and use technology to enrich the lives of citizens.
For its part, Oscar Pulido, Fleet Electrification Lead of Transport and Environment, highlighted that: «Artificial intelligence, used in an appropriate way, can represent an opportunity in the world of electric vehicles. A clear example would be to use its potential in order to improve our energy efficiency, helping us create habits that reduce electricity demand, as well as improve the user experience."
Finally, Ramon Gras, Aretian Urban Analytics and Design, Harvard University presented recent advances in the field of City Science, illustrating how the integration of Artificial Intelligence with urban planning, architecture and civil engineering allows us to illuminate complex urban challenges. Ramon described the implications and advantages of modeling cities around the world using AI, as well as some applied examples that allow us to raise the quality of design and strategic decision-making in the field of urban planning, the knowledge economy, and mobility. and the transport.