The successful mission of the Miura 1 is not having the best ending. The rocket with which Spain has entered the space race successfully completed its 12-minute flight last Saturday and was scheduled to land later in the Atlantic Ocean. Those responsible had marked out an area where it would fall, but they have not been able to recover the remains. This has been confessed by the Elche company PLD Space, in charge of its construction, on Twitter.
The ship had trajectory tracking systems which allowed it to know where it was going to fall. Two boats were waiting in the area to pick him up. However, they have not been able to. There is speculation that it could have broken when hitting the water, causing it to sink. The situation was part of one of the scenarios planned on paper and, according to the company, does not cloud the success of a historic mission. Its main objective, to demonstrate that the technology is available to put satellites into orbit and learn what is possible to apply the advances in the Miura 5, already under construction, has been achieved.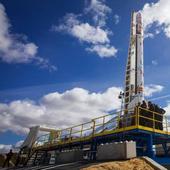 The Miura 1, named in honor of this well-known breed of Spanish bull, carried with it 100 kilos of material from the German Center for Applied Space Technology and Microgravity, belonging to the University of Bremen. And in the 12 minutes it was in space, the experts had time to take note of each and every one of the necessary details: the thrust of the engine, the aerodynamic behavior of the rocket and all the subsystems, and the monitoring of its trajectory.
Learning by 2025

The rocket launch took place last Saturday morning, at 2:19 a.m., after two previous failed attempts. It completed all the planned phases and rose to almost 50 kilometers in height – thirty less than expected -, which means leaving the Earth's atmosphere, but not entering orbit, something that is achieved after 100. The results obtained are now being analyzed by PLD Space to make the launch of the big brother in 2025 from French Guiana a success.
The Miura 1 has made Spain the tenth country to place a rocket in space. Previously, only the United States, the Soviet Union, China, India, South Korea, France, Italy, New Zealand and Japan had achieved it. It has 100% Spanish technology and dimensions of 12 meters long and 70 centimeters in diameter. The 5 will be 34.4 meters long and capable of carrying loads of up to 540 kilos.