This 100% electric SUV is a family model, measuring 4.91 meters in length. It has capacity for five occupants, and a large trunk of 631 liters. With a power of 340 to 408 HP, it approves an average consumption of 20.3 kWh/100 km. Its selling price starts at just over 84,600 euros.
With the Audi e-tron, the premium manufacturer entered the era of electromobility in 2018, marking the beginning of the electric future for the firm with the four rings. The new Audi Q8 e-tron builds on the success story of this pioneering vehicle.
The Q8 e-tron approves a range – according to the WLTP cycle – of up to 575 km for the SUV, and up to 595 km in the Sportback version. The design changes, especially significant at the front, give the new model a more modern and refined appearance.
Audi offers the new Q8 e-tron in two body versions: the classic SUV and the Sportback, which combines the habitability of an SUV with the elegant silhouette of a coupé.
Datasheet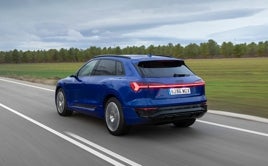 Engine: Electric 340 and 408 HP.
Autonomy: 576 km.
Dimensions (length/width/height, in m): 4.91/1.93/1.63
Trunk: From 631 to 1,637 liters.
Price: From 84,610 euros.
With a length of 4,915 meters, a width of 1,937 meters and a height of 1,619 meters for the Sportback (1,633 meters in the case of the SUV), the Q8 e-tron offers great habitability and maximum comfort.
For its part, the body of the SQ8 e-tron and SQ8 Sportback e-tron, the sportiest variants, is two millimeters lower and 39 millimeters wider.